Best Free Zoom Alternatives 2020 | No Sign-Up Video Conferencing
After the outbreak of deadly Novel Coronavirus or COVID-19, most people worldwide are forced to work from home. Not just business, institutes are also teaching from home. This has led to a huge demand for online video conferencing tools. There are hundreds of online video conferencing tools available online, but Zoom has emerged to be the best. The company which was unknown to the masses has now become one of the most used services in the world. Businesses, educational institutes, doctors, as well as, common people are using it to connect with others. In no time, it became the most downloaded app on Google Play Store and Apple App Store in many countries, including India and the United States.
The reason behind its sudden growth is the easy to use interface. In fact, its interface is too easy for any online video conferencing services. Other factors include its cross-platform support, no signup/sign in required policy, and most importantly, its free tier. With the tier, anyone can host a meeting with up to 100 attendees, and for 40 minutes. You can also set custom keyboard shortcuts for Zoom, depending on your own preferences. The Zoom is so popular that we have seen many heads of the states, including UK Prime Minister Boris Johnson using Zoom to conduct meetings.
Why You Need Zoom Alternative?
So far, Zoom seems to be the best online video conferencing app available. Then the question arises, why you need to look for an alternative to Zoom? Well, the simple answer is its lousy privacy practice. When Zoom gained so much popularity, it is only natural that it also attracted the attention of those who care about users' privacy. It was found that Zoom has many security flaws, and that made many privacy advocates uncomfortable.
One of the major security flaws is as it is known as 'Zoombombing.' As you know, anyone who knows the meeting ID can join a meeting, and use the file-sharing option to send embarrassing photos or make annoying sounds to pull pranks. This playing pranks on random Zoom calls got so serious that even the FBI warned people to stop doing so, or they may invite prosecution.
And then there was unwanted sharing with Facebook on the iOS app. After getting called out by media, Zoom has apparently fixed this issue.
The concern over the misleading 'end-to-end' encryption that later Zoom admitted that it is up to the server and not the users' device. That means, in theory, Zoom can hear and watch our conversations on Zoom.
After getting scold at, Zoom has committed to fix all the issues in the coming days.
If you are worried about your privacy on Zoom, it is a great idea to look for a better alternative to the Zoom app for online video conferencing and meetings.
Best Free Zoom Video Conferencing Alternative to Host Virtual Meetings Online Without SignUp
1. Skype Meet Now – The Best Free Zoom Alternative for Video Conferencing
Skype as you know, one of the widely used online video calling platforms both for individuals as well as for business. After the Coronavirus hit the world and virtually forced everybody to work from home, Zoom has become so popular. It looks like almost everyone is using Zoom to conduct online meetings, classes, consulting, and so on. One of the major reasons for Zoom to go viral is its ease of usage. In a bid to claim back its throne, Skype has introduced a new feature called 'Meet Now.' This new Meet Now adds everything that users seem to like about Zoom. Not just that, Skype Meet Now also has many other features that Zoom doesn't offer.
No Signup Required:
Finally, Skype has learned from Zoom and implemented the no signup formula. Now anyone with an invite link can join a Skype meeting without having to sign up. Not just that, you don't even need to install their app. It will use the web browser to connect you to the meeting.
Furthermore, if you have a Skype app on your device you can easily join a meeting without signing in.
Record Skype Calls:
Skype Meet Now also offers free call recording that Zoom doesn't offer. Every time you make a call using the Meet Now feature, your calls will be recorded and stored safely on Skype servers that you can access for the next 30 days for free using the same meet now link.
Safety:
Skype is in the business for a long time, and they know how to handle users' data with the utmost care.
How to Use Skype Meet Now?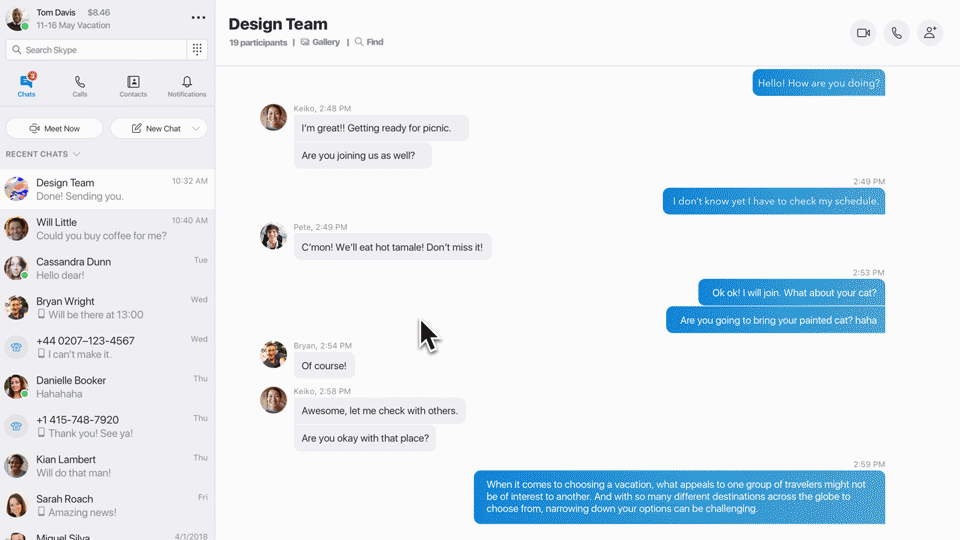 Skype has made it easier for hosts to create a meet now meetings in as few clicks as possible.
Open Skype app or visit skype from your web browser.
Log in to your Skype account.
You will see a new 'Meet Now' option. Click on it.
Click 'Create free Meeting.'
You will now have a sharable link that you can share via different mediums.
Participants with the invite link can join the meeting even if they don't have an account on Skype or the app installed on their device.
The service Skype 'Meet Now' is just a few days old, and there is a lot of things that we don't know yet. For example, it is still unclear how many people can join a Skype 'Meet Now' conferencing with the invite link.
2. Jitsi Meet
Jitsi Meet is an open-source online video conferencing platform. Just like with Zoom, Jitsi doesn't ask you to create an account with Jitsi to use its platform. It is fully encrypted and 100% free service.
Key Features:
Support up to 75 participants.
Strong end-to-end encryption.
Very few learning curves.
Integrate with Slack, Google Calendar, and Office 365.
Record season and save to Dropbox.
If you know little bit coding, you can use its open-source library to create your very own video conferencing platform according to your needs.
3. Facebook Messenger
Key Features:
Free to use.
Voice chat, text message, transfer files, and video calls.
Group video calls.
End-to-end encryption.
Facebook recently launched Facebook Messenger desktop for Windows and Mac to compete with Zoom and provide a better alternative.
Similarly, If you want to make your online meeting interesting, you can find many virtual reality tools to conduct online group meetings in VR environments.
Conclusion
These are all the best Zoom alternative services to conduct online video conferencing for free. If privacy is your main concern, then I would suggest Jitsi Meet or Skype Meet Now. If you don't mind paying for such video meetings, then you can try paid alternatives such as Google Hangout, and Cisco Webex Meetings. I hope you liked this article and found a good alternative to Zoom. If you have any queries, please leave them in the comment section below.