Looking for Best PDF Editing Software? EaseUS PDF Editor is The Answer
PDF or Portable Document Format is the computer file format that is very popular. When it was first introduced in 1993, it was regarded as revolutionary; after 28 years, it still stands true. Today PDF format is used everywhere. From big businesses to schools to individuals, PDF file format is the preferred file format for sending and receiving digital documents.
So, why is PDF so popular? When you create a document in a certain way and share it with someone, the same document may look different on the other end. The other person may have an older version of the software or maybe the font you used may not exist or maybe the display size of the other viewing computer is different which resulted in a completely messed up formating. This is where PDF comes in. PDF file format solves all of these problems. It saves all of the formattings as it is and saves it in the file itself. That means when you open that PDF file on any computer, the content will look exactly as it was when it was created. This freedom of sharing documents without losing formatting made it super popular among all. Soon, businesses, hospitals, organizations, schools, and even individuals started using PDFs to share documents with each other.
The very nature of PDF being best for viewing documents, made it super hard when you need to edit something on the PDF file. This is where the EaseUS PDF editor comes into play. If you have ever tried to use a PDF editor in the past, you will know how painful it can get to do even basic editing. But with the EaseUS PDF editor, the same task feels like a piece of cake.
Why All in One EaseUS PDF Editor is The Best?
The natural question here is why. Why should someone use EaseUS PDF Editor while there are other similar tools in the market? The single-word answer to that question is its features. This PDF editing software is one powerful software that has tons of features and has easy to use interface. Here are some of the main features of EaseUS PDF Editor software:
#1. Edit PDFs With Confidence: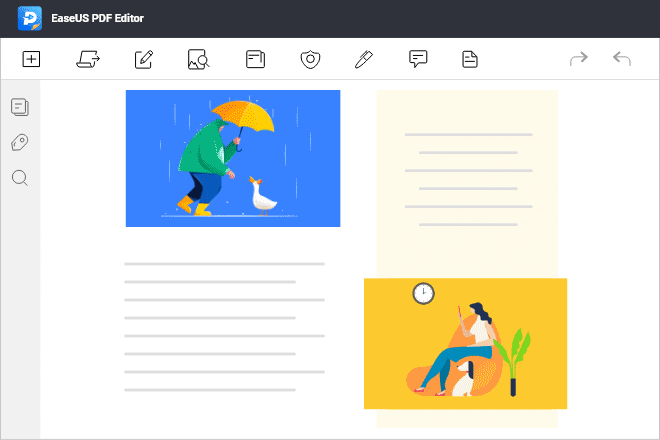 The usefulness of any PDF editor tool is measured by how efficiently it handles the main feature, i.e., editing PDF files. EaseUS PDF Editor handles this task smoothly. It lets you perform all the basic editing tasks such as adding, removing, or modifying texts, images, and links from PDF in just a few clicks. Not just that, you can also insert, delete, reorder, extract, crop, or rotate pages with ease. This Windows PDF editor has a great UI with everything you need on the main screen. This makes it super easy to perform all the editing tasks without really going through any major learning curve.
#2. Make Scanned Documents Editable:
Has it ever happened to you that you had a physical document scanned and converted to PDF just to find that you need to make some changes? Yeah, me too! EaseUS has made this really easy by implementing OCR technology. OCR is short for Optical Character Recognition. This technology recognizes text from images and scanned documents. With the help of OCR, you can easily make the image document into an editable document which you can edit as per your own requirements. Not just that, EaseUS's PDF editor can accurately recognize as many as 29 languages including English, French, Japanese, German, Korean, and others. That means no matter what language your document is in, you can rest assured that this powerful PDF software will serve you well.
#3. Create PDF Files Instantly:
Whether you want to create a new PDF file from scratch or you want to convert an existing image or document into a PDF, you can do so using this tool. It lets you create a blank PDF document from scratch, and you can add various elements as per need. Otherwise, you can take any existing document and convert it to PDF in just a few clicks. The conversion happens offline. This means irrespective of your internet connection, you can easily convert word documents to pdf offline or any other file format.
Similarly, if you wish to convert a PDF file to another file format you can do so from the software itself. It can quickly convert your PDF to some popular file formats, such as, doc, docx, xls, xlsx, ppt, pptx, png, bmp, tiff, jpg and jpeg, without losing original fonts, images and formatting.
#4. Collaboration Made Easy: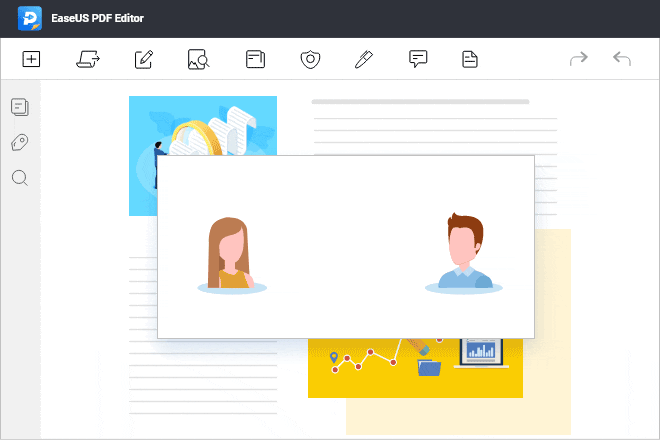 When multiple people work on the same PDF file, it becomes a nightmare to keep track of who edited what and why. EaseUS PDF Editor's collaboration mode helps fix this issue by making it super easy. People in a group can easily add comments, boxes, highlights, arrows, and lines to highlight certain changes. They can also create bookmarks for quick navigation, or they can simply mail the PDF file instantly to another group member from the software itself.
#5. Protect PDFs with Password:
Some PDF files are highly personal or sensitive and you would never want a prying eye to see its content. For those files, you can use the password function to lock your PDf from unauthorized viewing, copying, printing, or extracting.
Some Other Useful Features:
EaseUS PDF Editor comes with so many features that it is hard to mention them all in one place. But still, here is a rundown of what else you will find with this free editing software:
Create PDF forms: You create a fillable PDf form from scratch. It offers six different interactive form controls such as buttons, text fields, radio buttons, combo boxes, list boxes, and checkboxes.
Merge: The feature on this software lets you merge two or more PDF files into one. Not just that, you can also choose to merge specific pages of different PDFs to merge into one PDF.
Split PDF: Just like merging multiple PDFs into one, you can also split a PDF file into different PDf files.
Compress: If a PDF is too large to send via email or other methods, you can compress it to reduce its size without significantly reducing the quality.
Sign: Need to sign a PDF document? You can easily add an e-signature to your PDF documents by importing the signature image. On top of that, you can sign PDF with a digital ID to save time and effort.
Add watermark: Sometimes, some documents need to have a watermark for various reasons. You can easily import an image to set as a watermark and change its opacity, size, rotation, and location to best suit your need. Similarly, you can also remove watermarks from PDF using the same tool.
---
EaseUS PDF Editor is no doubt a well-thought-out software made for power users. It has everything a PDF editor should have but better. On top of that, it also comes with so many additional features that I didn't know I needed. But now, I don't think I will go back to any other PDF editor ever. This PDF editor is free to download with a paid option that unlocks so many important features. Whether you plan to use its free version or use the premium PDF editor, just give this tool a try to judge for yourself.
I hope this review was helpful for you. Please share your questions in the comment section and share this article with others on social media.